Building Strong Writers: Activities & Writing Strategies for ELL Students
Why is writing so hard? This is a question that teachers hear on a daily basis from students. There is no denying that writing is difficult. However, for English Language Learners (ELLs), writing is made even harder because they are doing a task outside of their native language.
We have compiled a list of the best activities and writing strategies for ELL students that are designed to alleviate your ESL students' struggles.
Before You Begin
To determine which strategies will work best for your students, ask these four questions before they start writing:
Do they already know how to read in their first language?
How similar is the student's home language to the English alphabet and syntax?
How often does the student have the opportunity to practice reading and writing in English?
How much background knowledge does the student have about the writing topic?
The Importance of Scaffolding Writing for ELLs
In education, scaffolding is a teaching method where teachers help students complete tasks just beyond the point that they could achieve by themselves. It was developed by Russian psychologist Lev Vygotsky, who theorized that children learn best when an adult helps them expand upon what they already know and can do.
His theory birthed the concept of a Zone of Proximal Development (ZPD)—the area between what is known and unknown where students can achieve a task with guidance from a knowledgeable teacher. Over time, teachers gradually reduce support until the students can do the task themselves.
There are many benefits to scaffolding instruction for students:
Tasks are simplified to make them more manageable.
Student frustration is reduced.
Students are better able to focus on learning objectives.
Students build confidence in their abilities.
Scaffolding your instruction is key to the success of all students—especially ELLs. When you make connections to what students already know, learning becomes more meaningful. Determining where and when scaffolding techniques are to be used (and later removed) is crucial in helping students reach their learning goals.
ELL Writing Strategies for Scaffolding
ELLs benefit from scaffolding throughout the writing process. Below are a few types of scaffolding writing strategies for ELL students that can be used at any grade or language level.
1. Model Texts
All ELL students need to see plenty of examples of the kind of writing you want them to produce. Model texts could be selected from high-quality literature, teacher-generated, or student-authored pieces. Whatever text you select, make sure that it clearly demonstrates your learning objective.
2. Sentence Frames
Sentence frames are sentences with strategically placed blanks for students to fill in. These are helpful for newcomers who are in the earlier stages of language proficiency, or for introducing a new type of sentence structure.
3. Sentence Stems
Similar to sentence frames, sentence stems provide a prompt for students to begin writing. Sentence stems are more open-ended than sentence frames, but still offer structure and guidance for the writing activity.
4. Word Walls
Word walls are an excellent scaffolding technique, as they can be customized to your language objectives. You may utilize a word wall for academic vocabulary terms or other important writing elements like signal words. You can make your word wall a more powerful teaching tool by making it interactive.
5. Graphic Organizers
Beginning a writing task can be daunting for ELLs. Graphic organizers are effective teaching tools that help students visually organize information and break down writing into more manageable steps. Consider pre-filling parts of graphic organizers to scaffold for your ELLs.
Writing Activities for ELL Students
When teaching writing to English language learners, it's important to use authentic writing activities that allow them to write about their experiences. We've compiled a list of engaging writing activities along with scaffolding techniques to help each of your ELLs build their writing skills.
Journaling
How to Journal with ELLs
Student journaling can be an effective activity to help ELL students build confidence and develop writing skills. There are many different ways that teachers can use journaling in the classroom. Personal journals, dialogue journals, and content-specific journals such as science or math notebooks are all helpful teaching tools. For a more in-depth look at how journaling can benefit ELL students, read our article here.
Benefits for ELLs
Journals can be used by ELLs of any proficiency level.
Students have the opportunity to write in their native language.
When used intentionally, journals can expand students' vocabulary and higher-order thinking skills.
Strategies for ELLs
For newcomers or those who have limited proficiency, consider allowing them to draw in their journals and label their pictures.
Use picture dictionaries or other visuals to help students bridge their understanding between words that they know in their native language and English words.
Provide sentence starters or writing prompts to help students get started with their writing.
Sequential Writing
How to do Sequential Writing with ELLs
Have the students write the steps to do a familiar task like getting ready for school or making breakfast. Students can practice using new and unfamiliar words along with a routine activity.
Benefits for ELLs
Sequencing is an important skill for reading comprehension and scientific inquiry.
By selecting a familiar activity, you will ensure that ELL students have the background knowledge necessary for the activity.
Students' home cultures can be incorporated by including the activity as homework for ESL students—have students ask their parents to tell them the steps for making their favorite meal.
Strategies for ELLs
Provide pictures for students to put in the correct order for a familiar activity. Have students practice labeling or matching words with the pictures. Reinforce keywords like "first," "next," "then," etc.
For students with progressing language skills, divide a paper into four sections. Have the students draw and label pictures for each step.
Provide a sequence graphic organizer for ELL students to write the steps to the activity.
Creative Writing
How to Use Creative Writing with ELLs
Benefits for ELLs
Incorporating social media activities can enhance ESL students' digital literacy.
Short, engaging activities reduce the cognitive load for ELL students while increasing their motivation.
Strategies for ELLs
Use model texts so that students are familiar with the type of writing you assign.
Create a word bank or personal word wall for students to reference relevant vocabulary words.
Poetry
How to Use Poetry with ELLs
Begin by discussing the difference between stories and poems. Read many different types of poetry to familiarize students with the genre, and include poetry across the curriculum where relevant. Consider the best type of poem for your instructional needs:
Benefits for ELLs
The text in poetry is both purposeful and brief, so ELL students can understand the main point without becoming overwhelmed.
Poetry offers opportunities for students to engage with language in a playful way.
Poems are an excellent way to incorporate your students' native cultures into your classroom.
Strategies for ELLs
To scaffold, first create a poem as a group, then have students work in smaller groups or pairs to write independently.
Have students create word maps to help them generate relevant vocabulary or varying adjectives to make their poetry more interesting.
Writing Programs for ELLs from Continental
Continental understands there are many different writing programs to choose from when teaching writing to English language learners. Our ELL writing programs are developed with the latest research and teacher-backed activities and feature the best writing strategies to support language development.
My Language Journal
My Language Journal is a series of personal journals that provides ELLs with opportunities to practice their writing skills and develop their vocabulary through visual learning activities. My Language Journal can be used for grades K–12.
Uses personal writing prompts to engage ELLs
Customizable word logs help make learning meaningful
Topics for social-emotional learning (SEL) and content areas
Tier 2 and Tier 3 vocabulary support
The Write Track for English Learners
The Write Track for English Learners focuses on writing development to help ELLs develop their written communication skills. It also helps students gain confidence with classroom writing assignments and state testing requirements. It's designed for grades K–12 and English language proficiency levels 2–5.
Provides complete instruction for a variety of writing areas
Step-by-step instruction with guided practice and peer review
Correlated to English language development (ELD) standards
Interactive eBooks with online answering, instant scoring for immediate feedback, and performance reports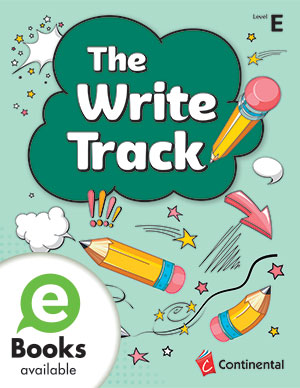 The Write Track for English Learners
Instructional ELs workbooks feature a gradual release model to help English learners make gains in classroom writing.
View Product →
Writing can be difficult even for native English speakers. Thankfully there are many ways to help ESL students not feel overwhelmed and discouraged. By using these writing strategies, you can help your students begin to feel more confident in their English language skills.
Looking for more writing or teaching strategies to support your ELL students? Visit Continental's
ESL Resource Center
for ideas and free downloads.
Thank you to Ellen Richardson, our ELL contributor, for consulting on this blog post.