Strategies for Teaching Academic Language to ELLs
English Language Learners (ELLs, ELs ELDs) face a variety of challenges in the mainstream classroom. Along with social and cultural differences, ELLs may also struggle with the language used in the classroom. This academic language can be difficult for ELLs to grasp and can pose a stumbling block when it comes to classroom success.
"Mastery of academic language is arguably the single most important determinant of academic success for individual students," says David Francis in Practical Guidelines for the Education of English Language Learners: Research-Based Recommendations For Instruction and Academic Interventions. "Unfortunately, ELLs often lack the academic language necessary for success in school. This lack of proficiency in academic language affects ELLs' ability to comprehend and analyze texts in middle and high school, limits their ability to write and express themselves effectively, and can hinder their acquisition of academic content in all academic areas."
So what can mainstream teachers do to help ELLs master academic language? First, it's important to understand the key components of academic language. Linguist Jim Cummins distinguished between two different types of language: Basic Interpersonal Communication Skills (BICS) and Cognitive Academic Language Proficiency (CALP).
Recognizing the differences between these elements of second language acquisition will help you develop effective strategies for teaching academic language to ELLs.
Understanding BICS
Cummins classifies Basic Interpersonal Communication Skills (BICS) as the language system that a person uses in everyday, informal types of communication. The language used for BICS is typically cognitively undemanding and developed largely through social interactions.
This type of language is typically developed well before students become proficient in academic language; English learners can become proficient in BICS as quickly as a year. BICS is predominantly oral and uses Tier 1 vocabulary.
For this reason, it is important not to judge students' language proficiency on their speaking abilities alone. Students with a high level of BICS might be able to hold a conversation about a familiar topic or converse well in high-context situations. However, they may not have the linguistic sophistication to engage in academic discussions without the intentional development of academic language.
Understanding CALP
Cognitive Academic Language Proficiency (CALP) measures mastery of the rigorous, intellectual vocabulary of content areas, which Cummins states is a key distinction from BICS. Academic language refers to the language needed by students to conquer classroom tasks, from understanding basic content vocabulary and directions to navigating advanced textbooks.
"To me, academic language is when teachers use keywords and important content area concepts when working with ELs," says Dara Schmick, an ESL teacher at Rutherford Elementary School and the Elementary ESL Department Chair for the Central Dauphin School District in Harrisburg, PA. "It is important for teachers to speak to students in a way that promotes language in every aspect of their school day."
Mastering academic language is critical to the academic success of ELLs. Cummins theorized that the development of CALP can take from four to seven years, independent of other factors such as language proficiency level, age and time of arrival in a school setting, degree of academic language proficiency in the student's first language, and the level of in-school language support.
How Can You Help Students Achieve Academic Language Mastery?
Successful understanding of academic language requires a partnership between mainstream teachers and ESL teachers, Schmick says, noting, "Teachers need to all be on the same page so that the academic language is comprehensive."
Working together, mainstream and ESL teachers can help ensure English Language Learners have success when it comes to conquering academic language.
"Some mainstream teachers have the skills and strategies to work with ELs and can use these with all of their students," Schmick says. "However, there are times when teachers are unsure of how to work with these students."
If you're teaching ELLs in your classroom, consider these tips for teaching academic language:
Introduce and reinforce academic language regularly.
It's important to preview text and identify words that might be new to students, says ELLs specialist Kristina Robertson on Colorin Colorado!, a bilingual site for educators and families of English Language Learners. She suggests writing words and phrases on the board and having students write them on index cards. She also recommends using visuals, acting, or synonyms to help students understand the meaning of a word. "Reinforce the newly learned language by asking the students to draw it, act it out, or use it in an appropriate sentence," she says.
Provide opportunities for review.
Consider creating a "word wall" of academic language terms so that students can refer to what they've learned throughout the year. Students can also use journals or word logs to reference academic vocabulary that they've learned throughout the year
Use academic language throughout all content areas.
"As the classroom teacher, it's important to integrate academic language into your daily classroom practice," says teacher Marine Freibrun on Minds-in-bloom.com. "Use the words in your objectives for other lessons, use the words in classroom discussions, and ask students to use them in their writing across disciplines. I also use academic language tickets to have students practice their words after lessons have been taught. I use them for tickets out, as morning work, or as independent practice. Just because you teach the lesson, doesn't mean you or your students are done with the word. It's important to continue the practice throughout the year."
Use resources for support.
Mainstream teachers should feel comfortable relying on other teachers or resources to help ELLs in their classrooms.
"It is imperative that mainstream teachers continue to use professional development opportunities in order to enhance the necessary skills needed to work with ELs," Schmick says. "If this is not possible for them, they can also use their ESL teacher as a resource for their own classroom. ESL teachers are there to not only help ELs succeed but to help classroom teachers with the challenges of educating ELs."
Resources such as Continental's TEAM Toolkits: Teaching ELs for Academic Language Mastery can be useful go-to supports when it comes to academic language and ELLs. The kits feature structured activities in listening, reading, writing, and speaking to help English learners develop grade-level academic language skills.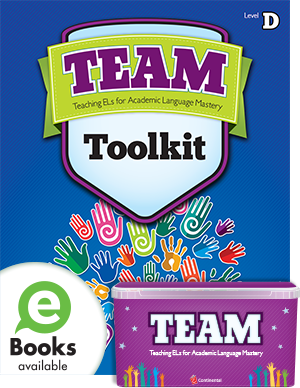 TEAM Toolkits: Teaching ELs for Academic Language Mastery
Structured activities in listening, reading, writing, and speaking help English language learners (ELLs) develop grade-level academic language needed for classroom success.
View Product →
Academic language is an essential component of education and is critical for success in school—and it poses unique challenges for English language learners. By intentionally developing academic language for your ELLs, you will support their academic success.
This blog was originally published on September 13, 2017. It was updated on October 19, 2022.