Jump Into Summer Review with Continental's Jump Start, Second Edition
Ah, summer. Time for students to relax, unwind, sit by the pool…and forget all the reading and math progress made during the school year. If you're worried about your students encountering the dreaded summer slide, you're not alone. Studies have shown that average test scores decline during the summer in 3rd through 8th grade.
The good news is, you can take steps to prevent summer slide and to support your students and their families at the same time. Being proactive now and addressing summer learning loss can have positive effects on your students when they return to school next year. And it's easy to work both math and ELA lessons into a summer that's most likely already jam-packed with camps, vacations, and other festivities.
Continental's Jump Start, Second Edition was created to address the issue of summer learning loss by presenting daily reading/language arts and math review to build and maintain core skills learned over a full school year. Features of each book, for grades K through 8, make it easy for parents to supervise their child's work and help their child stay on task.
Consider these features of Continental's Jump Start, Second Edition:
Clear, simple book format. Each book is organized into 9 weeks of 10 lessons per week, making it easy to follow a schedule of lessons throughout the summer.
One-stop review. Both math and ELA are included in each book, so parents only need to use one resource for the summer. Lessons include practice with reading comprehension skills, language arts, writing, mathematics, and problem-solving.
Quick lessons. Lessons are short enough to work on a summer day, leaving plenty of time for summer fun. Perforated pages make it easy to take lessons "on the go" as well.
Help for students. Each book features a glossary of important vocabulary to help students with unfamiliar or forgotten words.
Help for parents. Each book also includes an answer key in the back, so parents can check their child's work. It's especially helpful if it's been a while since a parent has done sixth-grade math, for example!
Progress checkpoints. Both a midpoint review and end-of-book review allow parents to monitor their child's progress throughout the summer.
Acknowledgment of success. Books include a Certificate of Achievement that parents can award to their child upon completion of the book.
Using Continental's Jump Start, Second Edition over the summer is an easy way to help students retain what they've learned over the past year and prevent summer slide. Just a few minutes a day of review over the summer can ensure your students have a strong start to the new school year.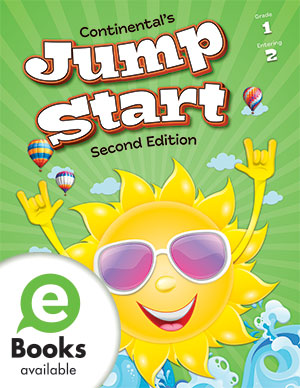 Continental's Jump Start, Second Edition
The daily practice in this updated, standards-based series helps students build and maintain skills covered over the school year. Ideal for summer school students.
View Product →
This blog was originally published on April 30, 2018. It was updated on April 26, 2023.