Learn Your ABCs: Making Letter Recognition Fun
When it comes to academic learning, there is no doubt letters form the foundation. Without a clear understanding of these basics, students cannot achieve classroom success. Luckily, there are many options for teaching letter recognition — and they're fun and easy, too!
We've created a list of our favorite letter learning games to be used in and out of the classroom.
Go On a Letter Hunt
Try this fun idea and send your young readers on a letter hunt. You'll need a few simple supplies—plastic letters, a tub or bin, cornmeal, and an answer key. Have your students dig through the cornmeal-filled bin for letters and then match their discoveries to the answer key.
Don't like the mess? Try an even simpler form of letter hunting. Take a walk around your classroom or school and let students search the room for letters on bulletin boards, in books and games, on posters, and more. You can even take a "field trip" and walk around the neighborhood to spot letters.
Use Your Senses
Sensory play is important for cognitive development in young children. Using letter learning with hands-on activities creates an opportunity to combine instruction and entertainment. Make letters come to life with this activity that mixes science with letter learning. Or, check out this idea that uses shaving cream as a base for writing letters. Simply have your student write letters with her fingers in the shaving cream (spread out on a cookie sheet) to practice learning how to form letters correctly.
Create an Alphabet Box
Follow this tutorial to make your own alphabet box. This activity introduces students to letters through objects that have the same beginning sound, helping them make the connection between letters and how they form the basis of words.
Pick a Letter of the Week
Teachers are used to spotlighting a student of the week, so why not take it a step further with a star letter of the week? You can even combine the two ideas—choose a student and then use his or her first initial as your letter of the week. If you need inspiration for putting a letter in the spotlight, check out these ideas. Or, use this list to create a library of books to support your letter-of-the-week lesson.
Find the Right Materials
Make sure your students are off to a great start when it comes to learning letters by using the right materials.
Continental offers a variety of PreK–3 literacy resources to support your early readers.
This kit helps students build their foundational reading skills. Books and resources target topics such as letters, as well as colors, shapes, numbers, rhyming words, and sounds.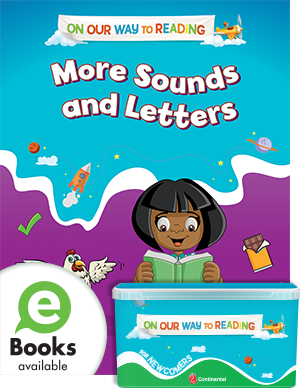 On Our Way to Reading—Newcomers
Lessons based on the Science of Reading help emergent English learners build foundational reading skills, giving them a strong start to language acquisition and confidence to grow on. Great for ESL programs!
View Product →
Workbooks use a direct, systematic approach to teaching phonics. A student-friendly book design and a variety of stories and characters keep students engaged and ready to learn.
Help transition emergent readers into genuine, independent readers by focusing on individual vowels, then building to multi-vowel reviews.
What Does the Science of Reading Say About Phonics?
According to research from the Science of Reading, phonics is identified as one of the five pillars of literacy.
What is Phonics?
The alphabetic principle encompasses the knowledge that words are made of sounds, and that letters represent those sounds. Phonics is the study of the relationship between sounds and written symbols— it is the practical application of the alphabetic principle. Phonics is the first step in decoding.
How to Teach Phonics
Research from the National Reading Panel's report demonstrates that teaching phonics systematically, cumulatively, and explicitly is key to successful reading instruction.
According to the NWEA, teaching of both phonemic awareness and phonics should be scaffolded as follows: clearly demonstrate, then provide student practice and feedback, and then gradually support more independence in your students.
Letter learning works best with lots of opportunities for practice. That's why we've created a free printable handout so parents and caregivers can support learning at home.
This blog was originally published on August 21, 2020. It was updated on November 8, 2023.