How to Integrate Higher-Order Thinking Skills Into Your ELL Lesson Plans
In 1956, Benjamin Bloom developed a hierarchical framework for cognitive skills, called Bloom's Taxonomy. For over half a century, Bloom's Taxonomy has been used in classrooms to guide instruction and assessments. In 2001, the original taxonomy was revised to include the following six sequential skills:
In this blog, we'll look further into higher-order thinking skills and share ideas for strengthening these skills in your ELL lesson plans.
What are Higher-Order Thinking Skills (HOTS)?
The importance of higher-order thinking skills in the classroom has been emphasized for decades. Higher-order thinking skills require students to go beyond the basic restating of facts and do something with what they've learned.
The levels of Bloom's Taxonomy that access higher-order thinking skills are: analyze, evaluate, and create. For students to be able to achieve higher-level understanding, they need to have a solid foundation of lower critical thinking skills.
Bloom's Taxonomy provides a framework for teachers to create activities and assessments that are differentiated to students' needs and will ensure higher-order thinking.
HOTS and English Language Learners
Higher-order thinking skills are necessary for students' future success. Not only are these skills part of high-stakes academic testing, but students will also eventually need them to be able to compete in a global job market.
Research has shown that English Language Learners (ELLs) typically receive less instruction in higher-order thinking skills than their native-speaking peers. Implementing higher-order thinking skills can be challenging for ELLs due to several factors:
Teachers may perceive language abilities as an indicator of cognitive abilities.
Teachers may believe that students need to achieve a level of proficiency in English before implementing higher-order thinking skills.
Teachers may find it difficult to develop activities and questions that reduce the linguistic load while still maintaining the challenge of higher-level cognitive skills.
Some ELLs may not feel comfortable answering questions in front of the class and so they do not participate.
Some ELLs may not have adequate background knowledge in the area of instruction.
Some ELLs may not have developed the academic language needed for some higher-order thinking tasks.
The good news is that accessing higher-order thinking skills is not dependent on the student's degree of language proficiency. You can successfully incorporate higher-order thinking skills into your lesson plans by carefully selecting and scaffolding your activities and using higher-order thinking questions. Below, you'll find tips and strategies to effectively utilize higher-order thinking skills in your ELL lesson plans.
Before You Start
Many of the cognitive processes for higher-order thinking skills involve making connections between concepts. This means that students need to develop prior knowledge—ELLs have unique backgrounds and their prior knowledge may vary greatly. Therefore, it's important to consider your students' background knowledge during planning.
Think about the background knowledge needed for your lesson.
First, review your lesson to determine the key concepts, academic vocabulary, and critical background knowledge necessary to comprehend the content. Be sure to consider any cultural references, names of places, or other culturally-specific areas of the lesson.
Evaluate your students' background knowledge.
You may need to use different strategies depending on your students' language levels. Some students can create drawings or use a graphic organizer to demonstrate what they know (such as a K-W-L chart). If appropriate for their level of proficiency, you may have your students discuss the topic in their native language in a small group and report back to you in English.
Plan Your Higher-Order Thinking Questions
There are many resources that provide examples of higher-order thinking questions. It can be helpful to post a chart of higher-order thinking questions in your ELL classroom. This can be used to teach students about higher-order thinking skills, give them examples of good questions, and help them develop their metacognitive skills.
Below are some examples of higher-order thinking questions that can be used across multiple content areas:
How would you improve x?
How do you think x would feel?
Why was it important that…?
Do you think x was a good thing? Why or why not?
What is your opinion on x?
What is the best solution to the problem of x?
Why did x happen?
What is the relationship between x and y?
What were the advantages of x?
What were the disadvantages of x?
What were the causes of x?
What were the effects of x?
When asking ELL students higher-order thinking questions, you'll need to consider students' proficiency levels as well as how comfortable they may be in taking risks in the classroom. Fort Smith Public Schools has developed a helpful chart that includes questions differentiated by both language proficiency level and Bloom's taxonomy level.
Think-Pair-Share is an effective scaffolding strategy for ELLs, especially when answering higher-order thinking questions for reading. After thinking individually about a question, students pair up and discuss their ideas with each other. Students then share what they discussed with the class through written or oral expression.
Creating Your ELL Lesson Plans
1. Use action verbs from Bloom's taxonomy for your lesson objectives.
By using verbs from the taxonomy, you can ensure that you are giving students activities with a range of cognitive demands. Some higher-order verbs include: analyze, compare, contrast, classify, arrange, infer, design, hypothesize, predict, evaluate, and score.
2. Plan your learning activities.
Choose a range of cognitively demanding tasks
Students need to progress to higher taxonomies of thinking—it is important to include both lower and higher-level understanding tasks in your lessons. The verbs from your lesson objectives will help you see how your students are engaging in different levels of cognition throughout your lesson.
Some examples of activities and higher-order thinking skills games include:
List-Group-Label
This activity is a form of semantic mapping. Students are given flashcards of vocabulary words and are asked to make groups. Students then explain their reasoning for the categories that they created.
Picture inferences
Using photographs or illustrated images, show students pictures and help them draw inferences through your questioning. Consider making this a part of your daily routine with a "picture of the day." Depending on your student's skill levels, you may use an inference chart to have them write their reasoning.
Provide scaffolding for your activities
Choose creative activities and provide appropriate support to boost students' thinking skills to the next level. Since ELL students' language levels vary, it's important to provide scaffolding to help them successfully complete learning activities. Some scaffolding strategies include graphic organizers, modeling thinking out loud, and using think-pair-share to discuss questions.
3. Write down your higher-order thinking questions.
It can be difficult to come up with higher-order thinking questions on the spot, so it's important to be prepared. Post a chart of higher-order thinking questions in your classroom or you may have specific questions on your clipboard to reference while teaching.
4. Consider how you will assess higher-level understanding.
By asking higher-order thinking questions throughout the lesson, you can formatively assess your students' understanding. ELL students should be encouraged to demonstrate their answers to higher-order questions in a variety of ways, rather than through oral expression alone. They may demonstrate their knowledge through drawings, building models, creating a digital presentation, or utilizing graphic organizers. The goal is for students to demonstrate higher-order thinking rather than their level of language proficiency.
It can be a challenge to incorporate higher-order thinking skills into your ELL lesson plans. Just like any skill, higher-order thinking can be developed and improved with practice and the right support.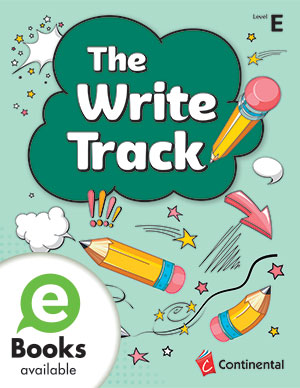 The Write Track for English Learners
Instructional ELs workbooks feature a gradual release model to help English learners make gains in classroom writing.
View Product →