What is the Importance of Picture Books for ELL Students?
In the classroom, picture books can be a valuable teaching tool for students at any grade level. However, they are especially beneficial for English language learners (ELLs). Good picture books for ELL students will help them form connections between their native language and English, build vocabulary, and support academic learning standards.
ELL students need substantial support to meet the academic rigor of the classroom. Teaching reading to ELLs presents a unique set of challenges:
ELLs may not be literate in their native language.
ELLs may lack the background knowledge needed to comprehend a text.
ELLs need text that is appropriately matched to their level of proficiency.
Benefits of Picture Books for ELL Students
Picture books are typically shorter in length, which is ideal for ELLs who can become easily overwhelmed by text. Their universal themes make them perfect for teaching students who come from various cultures and backgrounds. They offer tremendous benefits for ELLs in the area of literacy and beyond.
Teach Literacy Skills
Letter Recognition
Some beginning ELLs may not be literate in their native language, due to a lack of educational experience or their age. Other ELLs may have foundational literacy skills in their native language, but the English alphabet is an entirely different writing system for them.
Thanks to their limited text and engaging illustrations, picture books can be an effective (and fun) tool for teaching ELLs letter recognition and letter sounds. There are many high-quality picture books that focus on letters as well as more complex alphabet picture books that introduce vocabulary words.
A Is for Angry by Sandra Boynton is a fun book that reinforces letter recognition, character inferences, and adjectives for early readers and English learners alike.
Cynthia Weill's ABeCedarios is a beautifully illustrated bilingual alphabet book that provides students with an opportunity to identify letters and letter sounds.
Word Recognition
Fluency is an important component of learning to read that can be exceptionally difficult for ELLs. One way to develop fluency in early readers is to practice recognizing sight words, or high-frequency words.
Many picture books have repeated phrases, which can be helpful for students to practice both word recognition and fluency.
P.D. Eastman's Go, Dog, Go! is a classic children's picture book with simple, repetitive text that helps students practice high-frequency words like "go," "you," and "like."
I Want My Hat Back by Jon Klassan has silly illustrations and recurring phrases to keep students engaged while reinforcing sight word recognition.
Comprehension
Picture books can also be used to effectively teach more complex literacy skills, such as identifying the theme and main idea of a story.
A theme is a lesson or moral that students can apply to their own lives. When selecting picture books that teach a theme for your ELLs, choose stories in which they can make text-to-self connections.
The main idea of a story is what the story is mostly about. This can usually be summarized in a sentence. There are many benefits to incorporating picture books for teaching main idea to ELLs. Their compact nature makes the story easy for students to process and comprehend. Wordless picture books can also be helpful for students who have emerging language skills, as they are making meaning from the pictures rather than the text itself.
Your ELLs may require varying degrees of scaffolding depending on their levels of proficiency. Graphic organizers are useful tools for helping ELLs visually organize their comprehension.
Grow Vocabulary
All students benefit from instruction through multiple modalities—especially ELLs. Students retain vocabulary terms better when they have a visual representation as well as repeated exposure to them. Picture books accomplish both, as their illustrations are specifically designed to support the meaning of the text.
Activate Background Knowledge
Activating background knowledge is an important step in helping your students make their learning meaningful. Research from Carnegie Mellon psychologists confirms that it's easier to learn something new when we can connect it to something that we already know.
Students who are learning English have their own unique set of experiences and backgrounds which may be very different from their native-speaking peers. Bridging the connection from what they already know to what we want them to know will help them to master content more easily.
One way teachers can help a student connect with unfamiliar material is by using a fairy tale or folktale that has been translated into both languages. With students already knowing the story, it will help them identify unknown terms and known concepts.
Help Students Understand Abstract Concepts
Picture books can be particularly useful for helping ELLs to understand abstract concepts, such as emotions or cultural values. They can also be useful in helping students understand conceptual ideas in other content areas, such as math or social studies. For example, Pastry School in Paris by Cindy Nuenschwander discusses measurement and capacity in a meaningful context.
Practice Language Skills
Using read-aloud picture books can be a scaffolding strategy for ELLs to practice language skills independently. Picture books tend to be compact, and therefore more manageable for ELLs.
After you read aloud a picture book in your classroom, put an audio version of the read-aloud in a listening center to allow ELLs to develop their listening skills.
Students may use an app to record themselves reading a familiar picture book, providing them an opportunity to practice their speaking skills.
As a way to incorporate higher-order thinking skills, students can create their own picture books modeled after your read-aloud picture book.
How to Choose Picture Books for ELL Students
When selecting read-aloud picture books for your classroom, it is important to first consider the quality and accuracy of the literature. Second, be sure to choose books that provide support for the specific learning goals and objectives of your lesson.
Here are a few considerations for selecting the best picture books for ELL students:
1. Evaluate the background of the author.
When building your multicultural library, keep in mind that the most authentic stories come from authors who are writing about their native culture. Ibtihaj Muhammad's The Proudest Blue: A Story of Hijab and Family is a beautifully illustrated picture book that provides insight into the author's culture.
2. Illustrations should not include negative stereotypes or caricatures of cultures.
For example, many books about Native Americans may depict outdated stereotypes or misinformation. Check your books carefully and when possible, select books from Native American authors.
3. There is a strong correlation between the text and the illustrations.
One distinguishing feature of picture books is that they use both illustrations and text to create meaning. In Sophie Blackall's Hello Lighthouse, readers find beautiful illustrations that support comprehension of the text.
4. Academic vocabulary is demonstrated clearly in print and pictures.
Some picture books use formattings such as bold, italics, or different colors to highlight vocabulary. In Levi Strauss Gets A Bright Idea, key vocabulary and phrases are formatted to stand out from the rest of the text.
5. Background knowledge can be developed through the story and illustrations.
One example is Brian Floca's Locomotive, which can serve as an introduction to the transcontinental railroad to build your students' background knowledge.
Top Picture Books for ELL Students
A key element of the best picture books for ELL students is to have a picture book with a theme that an ELL student can connect with and find interesting.
Pre-K and Elementary
Knuffle Bunny: A Cautionary Tale by Mo Willems
This delightful picture book tells the dramatic story of a lost stuffed bunny. The plot is relatable and the illustrations are perfect for helping ELLs to make inferences about the characters.
Five Little Monkeys Jumping on the Bed by Eileen Christelow
This picture book offers repetition for ELL students to help them develop their word recognition and fluency.
Home by Carson Ellis
This beautiful picture book explores the many possibilities of what a home may look like.
Middle School
What Do You Do With a Tail Like This? by Steve Jenkins and Robin Page
A nonfiction book to help kids learn about animals and what they can do with their eyes, tails, nose, and ears.
More by IC Springman
A book that asks the universal question, "When is more enough?" when a group of good-intentioned mice tries to help their friend, a magpie, stop hoarding.
Have You Heard the Nesting Bird? by Rita Gray
This book teaches about different bird calls intertwined with the story of a mother bird waiting for her eggs to hatch while teaching rhythm and rhyme.
ESL Resources for Teachers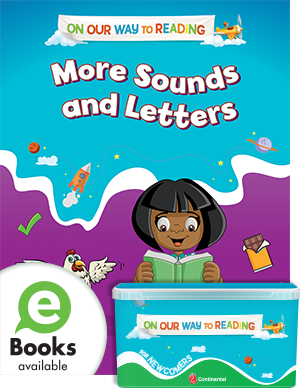 On Our Way to Reading—Newcomers
Lessons based on the Science of Reading help emergent English learners build foundational reading skills, giving them a strong start to language acquisition and confidence to grow on. Great for ESL programs!
View Product →
On Our Way to Reading—Newcomers by Continental
On Our Way to Reading—Newcomers helps ELLs develop print, phonological, and phonemic awareness through listening, reading, writing, and speaking activities.
Picture Dictionary by Continental
Picture Dictionary helps ELLs expand their word knowledge by using pictures of common vocabulary words. It is available in English and English-Spanish. Continental is a leading publisher of PreK–12 materials to support English language learners.