3 Fun Ways to Teach Vocabulary Words with a Picture Dictionary
No matter what language we speak, we learn and absorb information more effectively when the information is presented visually. In fact, our brains process visuals 60,000 times faster than text. Additionally:
50% of our brains are active in visual processing
90% of information transmitted to the brain is visual
40% of people respond better to visuals
Giving all students in your classroom access to visual learning opportunities can help reinforce your lessons and ensure retention of information. Teaching ELL students is no different. A picture is worth a thousand words and visual clues are essential in helping your students take in more information than they would from written or spoken instruction alone.
Getting Started: Using a Picture Dictionary to Teach Vocabulary Words
One of the best tools for teaching your K–8 students new vocabulary words is a picture dictionary. Broken into general categories like time and weather, people and families, animals, food, and community, it includes colorful images that help students associate new words with what they visually represent.
As you introduce new vocabulary words, identify the objects within each category, and pronounce the words on the page. Allow time for your students to share their experiences and previous knowledge about the pictures and words in the category. From this discussion, you can identify areas of misunderstanding or ideas that may need clarification before proceeding.
There are lots of games you can implement into your lesson plans as fun ways to teach vocabulary words using a picture dictionary.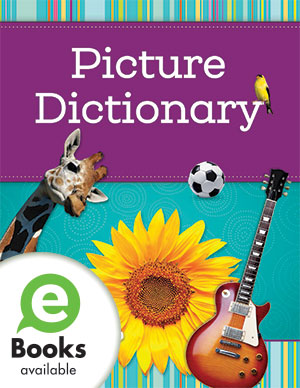 Picture Dictionary
Expand word knowledge using visual representations of 750 common vocabulary words. Editions in English and English-Spanish are available.
View Product →
I Spy
Not only is I Spy on our list of fun ways to teach vocabulary words, it also helps students become comfortable with using a dictionary and navigating its layout. Through the clues you give, you can guide your students through the dictionary to find the "mystery" picture. Starting with a general clue like, "I Spy a piece of food," encourages students to use the Table of Contents to find the appropriate pages. From there, your clues can become more specific such as, "I Spy a vegetable," or even more detailed like, "I Spy a red vegetable."
Four Square
Use the classic recess game to introduce new vocabulary words to your students. Using their picture dictionaries, students should provide a definition, write a sentence, draw a picture, and brainstorm synonyms for each new word. You can download this simple worksheet to play Picture Dictionary Four Square with your class.
Crumple & Shoot
Crumple & Shoot is not only a fun way to teach vocabulary words, but it also gives students the chance to get up and get moving. Here's how to play!
Divide your students into teams of three or four and provide each team with a picture dictionary. Have a smaller class? This activity works with individual students or pairs as well. Pose a vocabulary question: "What is the word for a person who cooks food in a restaurant?" and have the team or individual student write their answer on a square of paper and hold it up. If the team gets the right answer, one team member can go to the front of the room, crumple the paper, and shoot it into a wastebasket.
The Cult of Pedagogy blog provides a complete description of the game.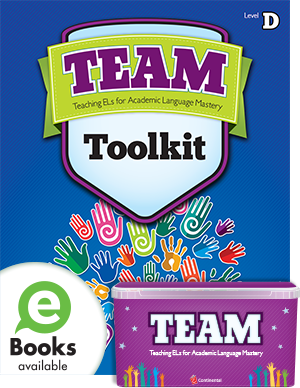 TEAM Toolkits: Teaching ELs for Academic Language Mastery
Structured activities in listening, reading, writing, and speaking help English language learners (ELLs) develop grade-level academic language needed for classroom success.
View Product →