You Know You're a Teacher When . . . You Have a Slight Obsession with School Supplies | Infographic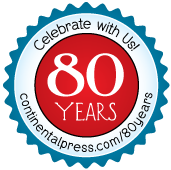 Earlier this year, as we kick-started our 80th Anniversary celebration, we reached out to our network of teachers and asked them to finish this sentence:
"You know you're a teacher when ________________."
The responses were humorous, heart-touching, eye-opening, and lots of fun. And if we learned anything, it's that teachers are more than a little obsessed with school supplies!
Here's a little taste of what you had to say:
"You hope that every healthy snack, holiday pencil, or notebook deal comes in a pack of 30."
– Sue, Minnesota
"You run to Target when another teacher announces on Instagram that the Dollar Spot has been restocked with classroom goodies."
– Marlene, New York
"You can pull together an amazing DIY ornament table with random supplies from your art closet."
– Karen, Oregon
"You dig in your purse for some lip balm and can only come up with a glue stick."
-Rebekah, North Dakota
"Your hands are rainbow-colored from various shades of dry erase markers and sharpies."
– Heather, New Mexico
"The employees at Staples and Office Depot know you by name!"
– Stepheny, North Carolina
"You get excited for Back to School sales (and you have no children at your own home)."
– Cindy, Iowa
"Your house (or garage or trunk or closet) is filled with endless piles of toilet paper tubes (or Kleenex boxes or pipe cleaners) that will someday come in handy."
-Honestly, too many of you to count!
Tips for Saving on Supplies:
Recent (and numerous) teacher surveys show that educators spend, on average, $400-500 out-of-pocket on school supplies and resources. So looking for opportunities to save is a no-brainer! Here are our tips:
Timing is Everything
School supplies make their grand entrance in stores as early as July, but if you can wait until early September (when retailers are already gearing up for Halloween merchandise), you can purchase at 50-70% discounts.
Offer your Opinion
Education publishers are often hungry for feedback about their products. In exchange for honest and valuable input, you can often receive free products or discounts on supplemental materials.
Create a Wish List
Create a classroom wish list on Amazon or other online stores that you can share with parents at the beginning of the year. Or, as many of our teacher responses have suggested, ask for things for your class for Christmas, your birthday, or even your anniversary.
Take Advantage of Deep Discounts
Folders for a penny! 100 pencils for five cents! These are the bargains that office supply stores use to get you in the door (where you will hopefully splurge on other items). If you can resist and stick to the sales, you can save so much!
Looking for more ways to save on educational spending? Read our blog article!